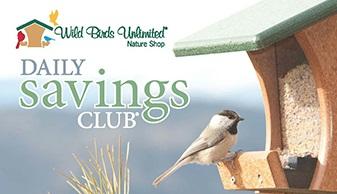 You Made the Right Choice with the
Daily Savings Club®
Every day we tell our customers how much we care with three little words: DSC. It's the only club where you save 15% on the every day price of bird and wildlife food.
For just $25 per year you get a great gift for joining the club and then again every year when you renew! We have monthly member-only specials, giveaways throughout the year for members, you earn points that will generate even more savings on all of the merchandise that you purchase and more! Join our more than 1,600 other members and enjoy great savings while taking care of your birds!
Stop by soon to see how much we care and to save on the Best Bird Food in Town.