WHO ARE WE??
Phoebe - Store Cat - a/k/a CEO (Cat Executive Officer)
Arrived in November 2021
WBU Fort Collins Official Store Cat Since 2021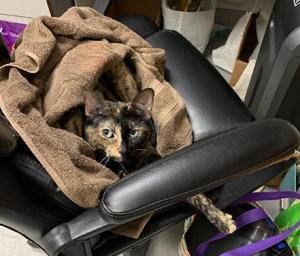 Our beautiful new addition joined the team in November of 2021 after the Lamb family contacted us to let us know that they had learned of Sora's passing when they returned to Fort Collins from a brief move to Texas. Their daughter loves Phoebe but developed an allergy and hoped that she might find a new forever home at our store. We went to their house and met her and instantly fell in love. She has been a joy to have in the store and we have found that she is an excellent "mouser" with at least 4 mice now gone as a result of her incredible hunting skills! Please stop in and meet this wonderful 2 year old Tortie and you will find that she is very friendly and looks forward to meeting you as well.
Lauren DeRosa, Owner, CEO, President

Certified Bird Feeding Specialist Since 2006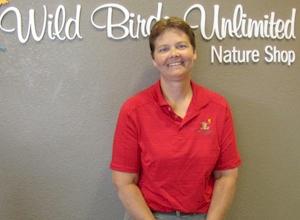 Lauren made the wonderful transition from "booze" to birds in April of 2006 when she sold the Loveland liquor store that her Dad and her were partners in for 16 years and bought WBU in Fort Collins. She had been feeding birds in her own backyard for 4 years before turning her hobby into a career. Her favorite part about owning a WBU franchise is that each day presents new challenges and she loves to spread her passion for the hobby to anyone that's interested. While her favorite bird is the American Goldfinch, she is interested in "birdies of another feather" on her days off. You'll find her golfing or on any body of water either paddle boarding, kayaking or boating at Horsetooth Reservoir whenever the store will allow for time off and the weather on the Front Range will permit. It's 2021 and with new knees, she's ready for whatever the birding world (and COVID) might toss her way! 2020 was a particularly challenging year in retail and definitely at the store. We've adapted to the new "normal" and hope that we can continue to offer a spectacular shopping experience whether in-store, curbside or online. Can't wait for the day to unmask and fly freely once again!
Victoria Templeton, General Manager
Certified Bird Feeding Specialist since June 2021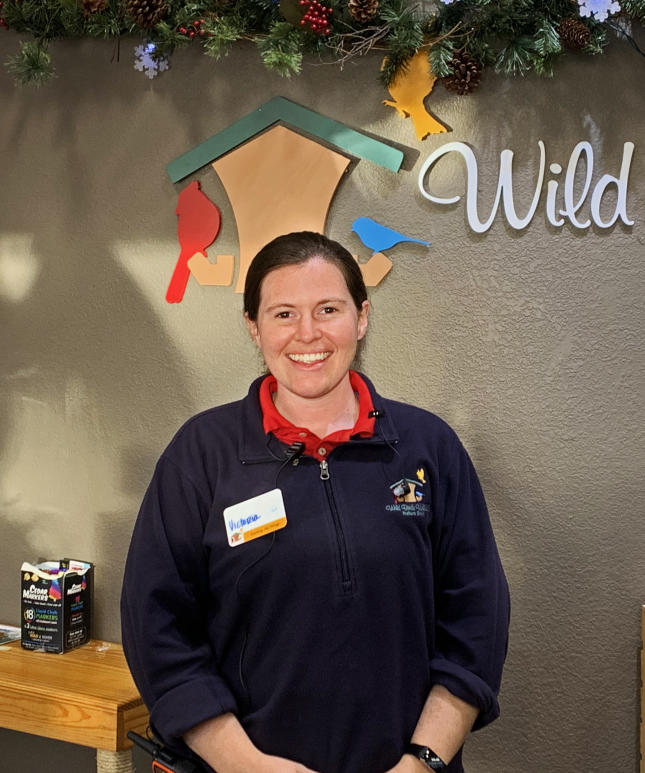 Originally from Nashville, TN, Victoria join our team with a background in organismal biology and interest in wildlife. She loves biking, hiking and exploring all of the awesome natural areas that Northern Colorado has to offer. While still new to the birdfeeding and bird watching hobbies, she particularly enjoys watching blue jays, Robins, and Magpies interact in their natural habitats. Ask her for a fun bird fact the next time you visit us!
Tammy Steen - Assistant Sales & Merchandising Manager

Certified Bird Feeding Specialist since December 2021
Tammy grew up in a small mountain town east of Seattle and loves all things nature. She moved to Colorado in 2015 and enjoys exploring what the great outdoors has to offer here. In her free time, she likes to keep busy with reading, writing, painting, and hiking with her two dogs. Tammy also enjoys talking and learning about wild birds and helping you create a birdie habitat suited for your needs!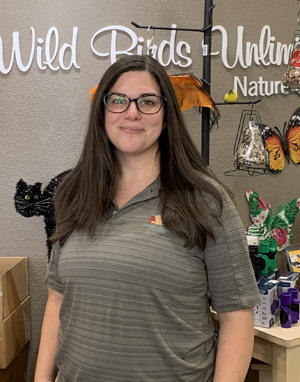 Tom Larsen, Assistant Operations Manager

Certified Bird Feeding Specialist Since January 2017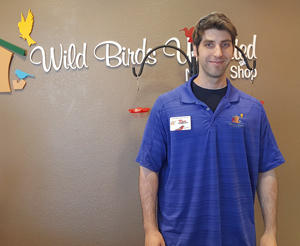 Tom was born and raised in Fort Collins! He is currently finishing up a degree in Social work from CSU before moving onto his Masters Degree. During his rare free time, he enjoys going to the gym and playing tennis at a level that only he can best describe as "putting Roger Federer to shame".
Kristen Jackson, Team Member

Certified Bird Feeding Specialist since January 2018
Kristen comes to us born and raised in Fort Collins, CO! She lives in Loveland, married with one child, one dog and one cat. She has a passion for creating and designing art and has her own business, Needful Things, which she promotes in local craft fairs and the Maker's Markets. She came to us because of her passion for feeding birds in her own backyard, and is especially fond of the hummingbirds that visit each year. Her most favorite sound on earth when camping in the foothills is the wind blowing through the pine trees with hummingbirds buzzing all around. She decided to leave the corporate world to work with and support a locally-owned business. We are so happy to welcome her to our team and invite you to come in and say hello!
Zack Cousins - Certified Bird Feeding Specialist and Certifiably THE BEST Backroom Logistics Engineer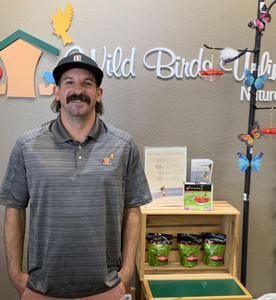 Zack came to our team in the midst of COVID-19 Pandemic insanity! We were so backed up with online, phone and curbside orders that it was time to bring on a backroom logistics wizard. He's the man! He joined Kristen in managing everything that comes thru the back door and all of our online store processing. He's also training as an opener and you'll see him on the floor helping out as much as possible. He grew up in Fort Collins and his Dad was feeding the birds for as long as he can remember. He enjoys golfing, fishing and playing soccer in his free time. The true joy of his life is his daughter, Maverick. Fun Fact: If he could be any bird....he would choose to be a Shoebill.

Alaina Holcombe - Certified Bird Feeding Specialist

Alaina was born and raised in Fort Collins, CO!She recently graduated from Rocky Mountain High School (Go Lobos!). In her "free" time, she likes to make jewelry for her Etsy Shop, spend time with her friends and be outside. She started working at Wild Birds Unlimited in November 2021 for part-time seasonal work but we wouldn't let her leave! She is excited to be part of the team.
Jacob Drabin - Team Member Earning His Wings
Jacob was born and raised in Fremont, CA and moved to Fort Collins to major in Zoology at Colorado State University. In his free time, he loves to play volleyball, enjoy the outdoors and spend time with his beloved dog, Caramel. He joined the WBU team in March of 2022 and LOVES getting to talk about birds all day long and playing with Phoebe during his breaks. Jacob is a volunteer with Greenwood Wildlife Rehabilitation Sanctuary in Lyons and is our liasion with this wonderful non-profit organization.