3636 South College Avenue
Ft. Collins, CO 80525
Between Panera Bread® and Men's Wearhouse®

(970) 225-2557
Open Today Until 5:00 pm
| | |
| --- | --- |
| Monday | 9:00 am - 6:00 pm |
| Tuesday | 9:00 am - 6:00 pm |
| Wednesday | 9:00 am - 6:00 pm |
| Thursday | 9:00 am - 6:00 pm |
| Friday | 9:00 am - 6:00 pm |
| Saturday | 9:00 am - 5:00 pm |
| Sunday | 11:00 am - 5:00 pm |
We will be CLOSED on Wednesday, July 4th to Celebrate the Holiday with our friends, families and backyard birds!  Enjoy the day and see you on Thursday, July 5th.
Hey?! How are my "Peeps" gonna come visit me with this going on?!?!
Road Construction Comes to Your Favorite Bird Feeding Hobby Store!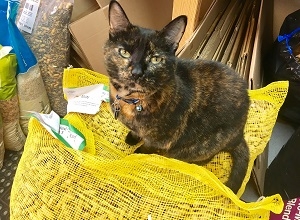 We were prepared for the Horsetooth/College construction project but not aware that the City would block direct access to our parking lot. We arrived yesterday morning to find our driveway entrance completely blocked today through July 16th (that is NOT a misprint)! Horsetooth Rd. will be closed eastbound at College Ave. now thru July 16th.
We are absolutely open throughout the entire construction project and appreciate your efforts to get to us via the following alternate entrances: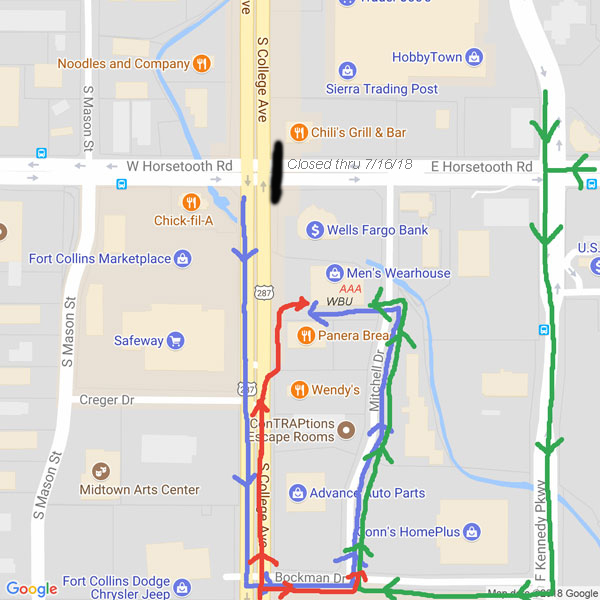 (RED Route) From northbound College Avenue, enter via the Panera Bread/Wendy's driveway and use the connecting drive to our parking area OR turn right onto Bockman Dr. then left onto Mitchell Dr. and enter our rear parking area as though you were coming in to Verus Bank.
(PURPLE Route) From southbound College Avenue, go past the store and turn left onto Bockman Dr., turn left onto Mitchell Dr. and enter our rear parking area by turning left as though you were coming in to Verus Bank. Drive thru the parking lot as though you were heading to College Ave. and we are on your right side.
(GREEN Route) From westbound Horsetooth, turn left onto JFK Pkwy, turn right onto Bockman Dr., turn right onto Mitchell Dr. and enter our rear parking area as though you were coming in to Verus Bank. Drive thru the parking lot as though you were heading to College Ave. and we are on your right side. You will not be able to turn left onto Mitchell Dr. from westbound Horsetooth so you must use JFK to get to all businesses on Mitchell Dr.
You can exit our parking area from Mitchell Dr. by turning right and heading east on Horsetooth Rd. but you cannot enter Mitchell Dr. off of Horsetooth while the project is ongoing.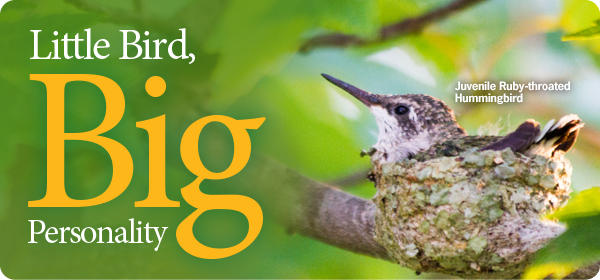 So Much to Know About Hummingbirds!
July 4th is the target date for migration to begin and hummingbirds will be stopping by your yard to fuel up for the long journey south! If you haven't seen any hummingbirds in your yard for the past month or so, there is a very good reason for this. They did come thru our neighborhoods, briefly in the Spring, as they headed up into the foothills and mountains to breed, have babies and then prepare for the long flight home. If you make certain that your feeders are filled with fresh nectar right around the 4th of July, expect to begin hearing them buzz overhead and stop in for a drink!
Summer is a much anticipated time for our smallest backyard-winged visitors. Hummingbirds may be the most anticipated bird to visit our yards. And why not? These littlest jewels of the backyard have some of the biggest personalities.
Hummingbirds are indeed small, weighing 1/10th of an ounce; about the weight of a penny. They also lay the world's smallest bird egg; about the size of a blueberry.
For such a little bird, hummingbirds can be very feisty and aggressive when defending their territories; which includes nectar feeders. Multiple feeders, spread throughout your yard, will encourage more hummingbirds to visit and keep bullies at bay. The more feeders you offer and the more spread out they are, the more difficult it is for a protective hummingbird to defend all the feeders. Others, like females or even juveniles, will be able to eat more often, perhaps staying longer to feed or rest at feeders.
Speaking of feeders, these little birds have big appetites. Hummingbirds eat about every ten minutes and their diet is not made up entirely of nectar. They spend more than 25% of their time foraging for small spiders and insects to obtain essential amino acids and other nutrients.
Hummingbirds use their bill and not their tongue to catch prey while they forage near the ground and in trees. They love spiders and spider eggs and keep an eye out for small flying insects like midges, fruit flies and gnats. They also check leaves and branches for leaf hoppers, aphids and even the occasional small caterpillar.
Our little hummingbirds are deceptively big on speed. They often seem to explode away from a feeder like a dragster. They typically fly at 30-45 miles per hour (48-72 kph), but can fly up to 60 mph (96 kph). They can even hover and are the only birds able to regularly fly backwards and even occasionally upside down. They can do this because of an extremely mobile shoulder joint.
Be a seasonally savvy bird feeder by installing multiple hummingbird nectar feeders around your yard to draw in these little birds with the big personalities. Visit our store and we'll help you pick out everything you need to attract hummingbirds to your backyard.
---

Who Are We - Meet the Team Meet our New Team Members and Revisit those you've known for years!
learn more

Local Birding Partners Citizen Science, Local Birding, Conservation and Wildlife Rehabilitation
learn more