ALL upcoming meetings and events will be held via Zoom Meeting. Spring 2021 Bird Hikes have all been postponed until further notice.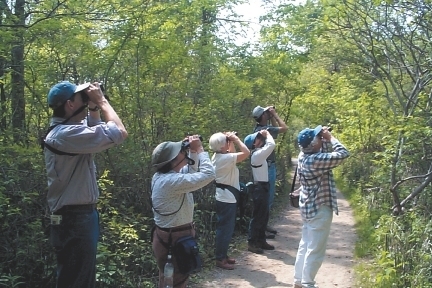 ALL upcoming meetings, hikes and events have been re-imagined for 2021.
The Fort Collins Audubon Society is an amazing local resource of bird and nature lovers that have a monthly calendar of bird hikes and other events. We would invite anyone interested in getting out into nature and learning more about the birds that are in the area, to join the FCAS on these hikes and support them as members.
FCAS Hosts
Jonathan Reitz, Wildlife Biologist, Colorado Parks and Wildlife
Presenting: "Translocation as a Conservation Tool for Lesser Prairie-Chickens"
Thursday, February 11
Announcements: 7 p.m.; Program 7:20 p.m.

***This will be an online meeting using Zoom***
Enter the following link on your web browser at or before 7 p.m.
and follow the instructions to join the meeting:
https://us02web.zoom.us/j/81322534840
The Lesser Prairie Chicken is an icon of Colorado's southeastern prairies. Due to a long list of environmental and anthropogenic factors, they nearly became extirpated in extreme southeastern Colorado and southwestern Kansas, one of its core areas. In an effort to recover the species on and around the Comanche and Cimarron National Grasslands, Colorado Parks and Wildlife, Kansas Wildlife Parks and Tourism, and Kansas State University partnered and embarked on an unprecedented project for Lesser Prairie-Chickens.
Over the course of four years, a small army of biologists, wildlife technicians, and graduate students caught and translocated over 400 Lesser Prairie Chickens to the U.S. Forest Service grasslands. First and foremost, project partners wanted to take a significant step toward recovering this dwindling population on the sand-sage prairie. But, another major goal was to determine if trapping and transplanting could even work, and if it could be a viable tool that should be included in the Lesser Prairie Chicken conservation tool box. In many ways, this challenging project was the first of its kind. Biologists had no idea whether or not the birds' own instincts and behaviors Jonathan Reitz is a wildlife biologist for Colorado Parks and Wildlife, and has worked on Lesser Prairie Chicken conservation since 2006. He helps manage research, and conserve big and small game, and threatened/endangered species in southeast Colorado.
All FCAS members and guests are welcomed and encouraged to join this Zoom meeting on February 11.
Field Trips Cancelled for the Foreseeable Future
The mission of the FCAS is to promote the appreciation, conservation, and restoration of ecosystems. Foremost, in that mission is education. The educational events that we participate in throughout the year cannot take place without the time and expertise of the chapter members.
We will reassess in December for 2021 field trips, and post updates on our website and January 2021 newsletter. Thank you for your patience and support. We want to hear from you about any concerns, and encourage you to both practice social distancing and to spend time in nature to relieve stress and anxiety. For field trip ideas on your own, we recommend you go to our Field Trip page and toggle the calendar to earlier dates and check our local birding list http://www.fortcollinsaudubon.org/pages/localbirding.html. Some of my favorite fall birding locations you can try on your own include Tinmath Reservoir, Bobcat Ridge Natural Area, Fossil Creek Reservoir, Douglas Reservoir, McMurry Natural Area, and the Environmental Learning Center.