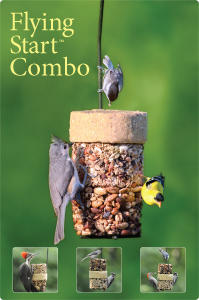 Attract All the Birds for Under $15
Buy 3 Stackables AND the Feeder for $14.97!
It doesn't take a lot of effort... or a lot of money to get started feeding the birds. With our Flying Start™ Combo, you get everything you need. It's quick, easy to hang and includes the foods all the birds in your backyard will love.
Great for First Time Bird Feeders
Great Addition to Your Existing Setup
We've chosen 3 different Stackables to attract the widest variety of birds
Naturally Nuts Suet Dough Stackable - a solid suet stackable filled with peanuts
Nutty for Nuts Seed Stackable - a solid nut stackable for tree nut and peanut lovers
No Mess Stackable - a solid fruit, seed and nut stackable for everyone
NOW AVAILABLE!
NEW! Hot Pepper Flying Start Combo (price slightly higher)
Get 2 Hot Pepper Seed Stackables and 1 Hot Pepper Suet Dough Stackable
Attract the widest variety of birds and keep squirrels from eating all of the bird food
Squirrels do not care for the heat generated by the hot pepper that is added throughout these products. While we cannot guarantee that the squirrels in your backyard won't actually enjoy "spicy food", this has been very effective at either slowing down consumption or driving them away from this feeder altogether.
Stop in and we'll show you this new addition to our Flying Start Combo selection!