NOW AVAILABLE AT YOUR LOCAL STORE!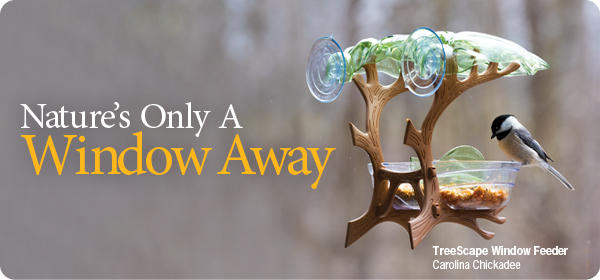 Bring Birds in for a Close-up View
Our TreeScape Window Feeder brings your birds so close you could almost reach out and touch one. Perfect for offering blends, peanuts and Bark Butter® Bits, this durable feeder simply attaches to your window pane with suction cups, allowing you to see the tiniest bird detail. Made in America, the TreeScape Window Feeder is easy to fill, easy to clean and backed with a lifetime guarantee.
DAILY SAVINGS CLUB MEMBER ONLY OFFER* - WHILE SUPPLIES LAST!

Get a FREE
Original or Hot Pepper Bark Butter® Bits 3lb. Bag AND
a sample bag of our best-selling
No Mess DP Seed Blend
With Purchase of TreeScapes Window Feeder* $34.99 each
*Limit of 100 feeders are available for this promotion. First come-first served!

Online Shoppers! Go to mywbu.com/fortcollins and purchase this item. We will automatically fulfill your order with the free food and have it ready for curbside or in-store pickup or delivery. If you would prefer original or hot pepper Bark Butter Bits, please put that request in the notes on the order.
Please, DO NOT include the Bark Butter Bits in your order unless you would like more than the one FREE bag that will be included with your order. If you do, you will be charged for the FREE item.
CLICK HERE to place your order online for pickup or home delivery!