Kyle Carlsen from our Longmont Store has created an AMAZING Summer and Fall Bird Walk Schedule!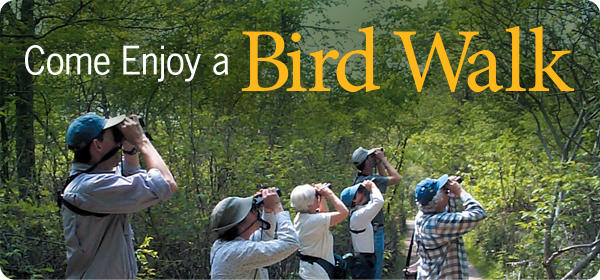 Please email us at

[email protected]

or call us at (720) 680-0553 if you are interested in participating!
It is IMPORTANT that you call or email to participate so that we can let you know where to meet, park and any other information that is pertinent to specific locations.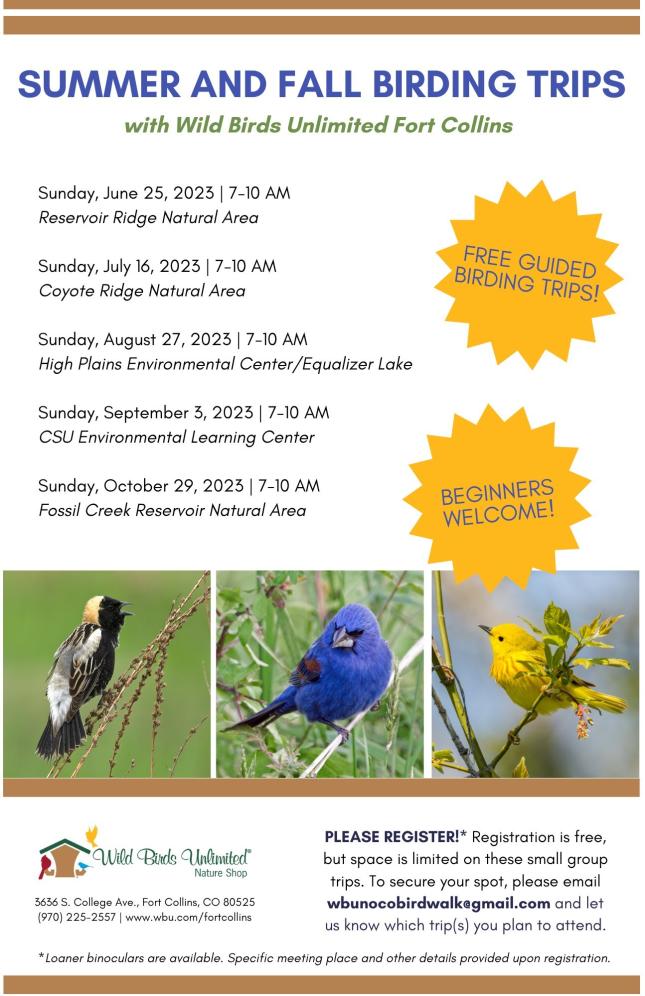 The September 3rd walk at the CSU Environmental Learning Center is fully booked. Sorry for the inconvenience but we invite you to join us on October 29th at Fossil Creek Reservoir
Update on the species seen and heard on the August 27th Equalizer Lake birdwatching trip!
19 Species observed
184 individuals total
Observations

Canada Goose: Number observed: 20
Mallard: Number observed: 10
Ruddy Duck: Number observed: 4
Western Grebe: Number observed: 15
Rock Pigeon (Feral Pigeon): Number observed: 10
Exotic: Naturalized Eurasian Collared-Dove: Number observed: 18
Exotic: Naturalized Mourning Dove: Number observed: 3
Killdeer: Number observed: 3
Franklin's Gull: Number observed: 30
Ring-billed Gull: Number observed: 20
Great Blue Heron: Number observed: 1
Osprey: Number observed: 2
Eastern Kingbird: Number observed: 1
Barn Swallow: Number observed: 20
Cliff Swallow: Number observed: 2
House Wren: Number observed: 1
American Goldfinch: Number observed: 10
Red-winged Blackbird: Number observed: 12
Common Yellowthroat: Number observed: 2
A bird walk is a great opportunity to enjoy nature and potentially see some great birds! We're planning for beginner - intermediate 1.5 hour walks guided by our own Kyle Carlsen, team member at our Longmont, CO location. The walks will be free, but be sure to dress appropriately for the weather. We initally plan to have 1 walk per month on a Sunday morning but will collect information from those interested in participating to develop a schedule to serve the most people.
If you have binoculars, be sure to bring them. However, we'll also have a few that are available for checkout. You'll learn how to customize your binoculars for the best views, as well as how to listen for, find, follow and identify the birds we might see.
In your email, please provide the following information:
Name(s):
Phone Number:
Email address:
Weekday or Weekend Preference:
Special Considerations (ADA access needed, etc.):
Level of Birding knowledge (Beginner, Intermediate, Life Lister Expert):
Interested in checking out the bird walks in Boulder County??